We love hearing the success stories of how our product have made their lives easier. Let's keep spreading joy together!
Best product for nerve pain
I found Nerve Rescue to be the best product for nerve pain.
It is a natural remedy that has helped me immensely. The ingredients are all-natural and work together to help relieve nerve pain.
I have used other products before, but none have worked as well as Nerve Rescue. I would recommend this product to anyone suffering from nerve pain.
First Bottle
I purchased my first bottle of nerve rescue three weeks ago. Since I have been taking nerve rescue, the neuropathy in my feet has calm down quite a bit.
I will continue to take nerve rescue and I have signed up for monthly delivery and me a lot of relief. I have a lot of confidence in this product. Great ingredients I am looking forward to more relief from use of nerve rescue.
High quality ingredients
What attracted me first about this supplement is the inclusion of 300 mgs of the R-form of Alpha Lipoic acid; The reduced (R) form is the most concentrated form and also the most expensive. If you search this site separately for R-Lipoic Acid and Alpha Lipoic Acid and compare prices you'll see what I mean. I've been taking the R form for a long time, ever since reading that most of the studies done on Alpha Lipoic Acid used the R form ,which is, they say, the more biologically active one. The combination of R-Lipoic Acid and L-Carnitine is supposed to protect the mitochondria. As far as I can see by the list of ingredients , everything in this supplement could be considered anti-aging as well as nerve health supportive. So it's kind of a twofer.
I suppose that I have always had some degree of neuropathy, in the form of perpetually cold hands and feet. Possibly taking this supplement will help with that. Whether it does or not, this product seems to be a well-thought-out formula with superior ingredients that I am happy to try.
United States on March 31, 2023
Hoping this Supplement Rescues Nerve Damage
I have had neuropathy in my feet for over 10 years. Ongoing burning and numbness. When I saw the name of this supplement, since I'm desperate I thought I would give it a try. They provide 90 capsules so when I finish them I will update this review if there is any relief with this issue.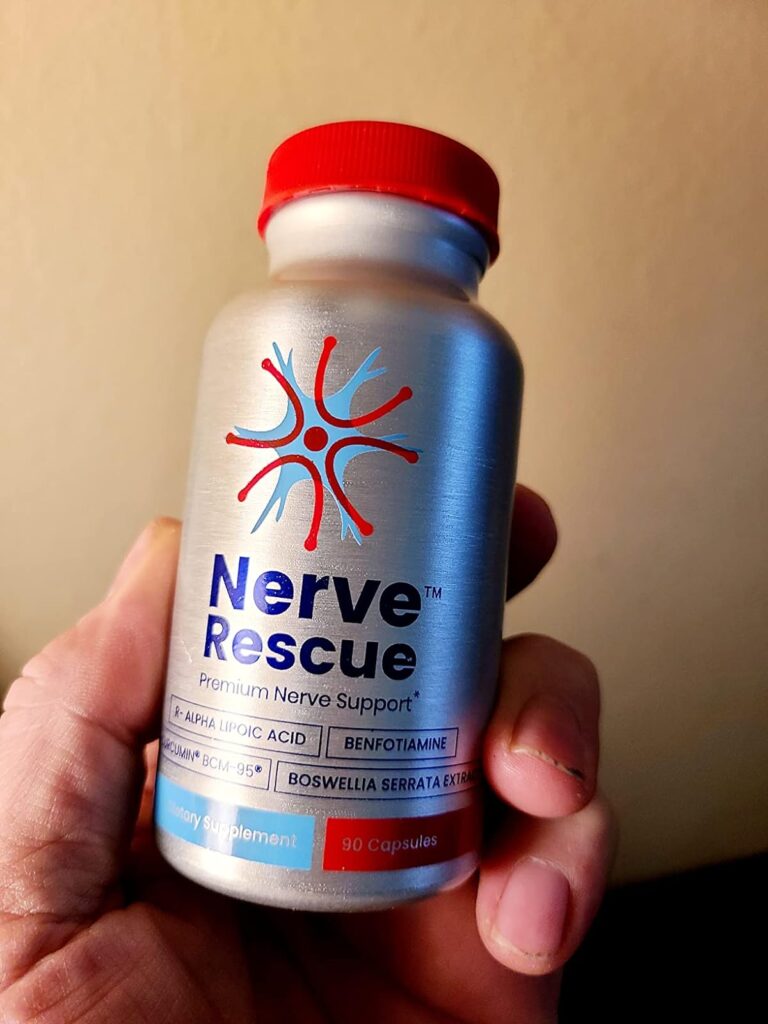 United States on March 21, 2023
It truly works!
I heard about this from a friend and I decided to give it a try. I can't say enough good things. What I noticed right away was the burst of energy I felt. That was a welcome surprise since I have not been as active because of the discomfort I have been experiencing lately. My dog is the happiest of all now that I can take him for his daily walk again.
United States on July 17, 2023
Premium Nerve Health Ingredients
Many of these supplements are beneficial in helping with neuropathy and nerve issues, especially benfotiamine, a form of the B vitamin thiamine (B1).
This formula contains many quality ingredients including turmeric extract, Boswellia, inositol, PQQ, and feverfew. I take many of these as part of my overall health-improving supplement regimen.
The formula also contains premium forms of other B vitamins like folic acid and vitamin B12 in standard doses.
Will this help with nerve health? It is very possible as research suggests these chemicals can help.
The company claims third-party testing and GMP certification, both of which are signs of quality when buying supplements.
United States on April 1, 2023
Really works
After a severely broken ankle the burning, pain, redness was horrible. I was advised to use novocaine to numb the area. I wanted healing not something to mask the real issue. I was desperate and wanted something natural. I started to use it and after a few days I started to see results. I'm still using it and the burning, the redness and swelling have reduced considerable. Everyone is different so I hope it works for other users
United States on May 9, 2023
Simplifies supplements into 3 easy to swallow pills!
Great easy to swallow blend of supplements, anti-inflammatory, and antioxidants to help protect against nerve damage. I generally take many of these supplements individually, so this is a nice welcome all in one package.
This may even help before a night of partying to help you feel less brain fog the following day.
United States on March 24, 2023
Very Satisfied
I have been using Nerve Rescue for the past few weeks and I have noticed a significant improvement in my nerve pain and tingling sensations. The best part about Nerve Rescue is that it is completely natural and has no side effects. The capsules are easy to swallow and it is very convenient to take with me wherever I go.
Overall, I am very satisfied with Nerve Rescue and would recommend it to anyone suffering from nerve pain.